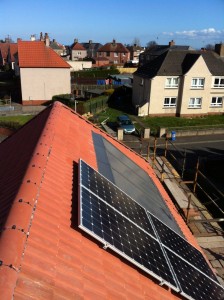 Renewables recently completed this large domestic installation in Methil, Fife. The installation was one of the largest domestic systems consisting of the maximum 4kW solar PV and a 3 panel Solar Thermal system.
The photograph shows part of a 16 panel Canadian Solar PV array and a 3 panel, in roof Kingspan Renewables thermal collector.
There is also visible in the photograph a 3rd renewable technology, anyone correctly noticing it and accepting a Lothian Renewables PV quotation during June and July will receive a free PV monitor.