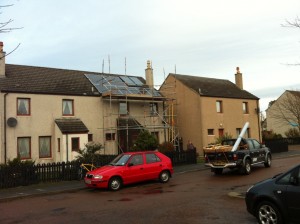 This installation in Poolewe  shows both Solar Thermal and PV. Since installed on this south facing roof the customer has experienced 2 reductions in her monthly electricity payments from supplier E.ON. The solar hot water system together with a new highly insulated storage tank has significantly reduce the cost of heating water and the use of  on site generated electricity has had a direct impact on purchased electricity and has made a big impact on the familys carbon footprint.
The 2.45kWp system has produced 1110kW hrs in the first 6 months since commissioning which compares to an estimated annual production of 2060kWhrs
The customer commented –
Living in the North west highlands of Scotland has many pluses but also
draw backs .When I picked up on the possible advantages of fitting
thermal panels to our property, I found it increasingly difficult to
find the answers I needed to make a decision, to fit or not to fit?
Plenty brochures came to our address but when I enquired I got a
barrage off "I don't know, we only fit in England "Very exasperating I
could not even get the price of a panel! I could not believe my eyes
when I saw an advert in our local, A 4 yellow paper, Lothian Solar, now Lothian Renewables, I
phoned left a message. I could not believe that someone was willing to
travel from Northth Berwick to where I lived, give easy to understand
information, be very approachable and to boot give a very reasonable
quote and no hard sale tactics.
After fitting the thermal panels, it became very clear that the
financial savings forecasted by Lothian solar were higher than
predicted. It did not take me long to decide that PV panels ,although a
bigger financial outlay, would remove the biggest monthly bill we would
have in the future, despite the rising cost of power bills!
The immersion switch has not been used since the Thermal, water heating
panels were fitted we have hot water all the time, in the evenings in
colder months ,Yes we do have the fire on which boosts the water
temperature, but let's face it…it would be on anyway!
Best news last, Monthly electricity direct debit fell from £96 to an
unbelievable £56, the FIT feed in has, provided enough funds in the
brighter months to cover the electricity annual bill, need I say more?