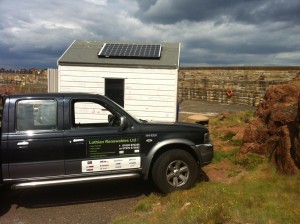 When approached by the North Lights Arts festival in Dunbar to provide electrical power for their festivals beach Hut venue at Dunbar harbour, Lothian Renewables were more than happy to help out by way of fitting an off-grid PV system.
The system comprises of a Schott solar PV panel, deep discharge battery, charge controller and a 500W dc/ac inverter to provide 230V electricity.
Equipment was supplied by Off Grid PV supply specialists Dragond Breath.