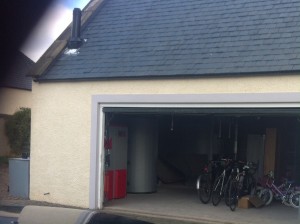 This East Lothian installation was our first Biotech 35kW system. Designed to provide space heating and hot water to a farm house with a 70000kW hr annual demand. Space heating is via traditional radiators and underfloor heating.
The auto fed Biotech 35kW PZ model was housed remotely from the house in an adjacent garage and connected using Rehau underground heating main. The system uses a 1000l buffer vessel and 3.5 galvanised silo to store pellets.
In addition to payments from the domestic RHI the customer is enjoying significant fuel saving compared to the LPG system the biomass replaced.