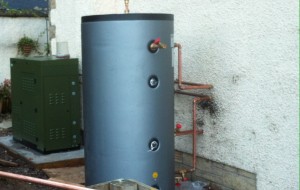 This recently commissioned installation in the Scottish borders featured the new External Trianco 18kW slim   supplied by Plumb Centre. The biomass boiler has been recently upgraded and now features an oxygen probe on the exhaust fan allowing increased combustion efficiency.
The boiler is fully waterproofed and provides a biomass solution where there is no interior space within the house.
The system incorporates a 500l buffer vessel, pictured before the pellet store was constructed around the buffer.
The project included improvements to the existing hot water system and removal of an oil fired AGA