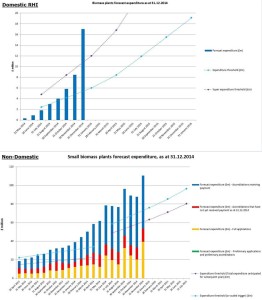 The DECC Monthly Reports released on 30th January for RHI show that the level of applications for Domestic RHI is above the super trigger – if the forecast expenditure remains at the same growth rate, then the biomass tariff will be degressed by 20% for applications from 1st April, from 10.98 to 8.78p/kWh.
For the Non-Domestic RHI the small biomass band has again hit its individual trigger, with current growth figures strongly suggesting
a 10% degression (+5% if total RHI trigger being hit) as of 1st April. The medium (200kWth-999kWth) and large biomass (1MWth+) tariffs are unlikely to be degressed,
The final degression decisions will be announced in the next quarterly assessment, released 27th February.